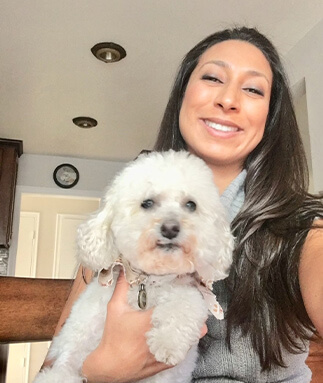 Dr. Lidia Rivas was born and raised in Southern California. During her undergraduate career, she travelled to Costa Rica to research the incredible bats of the region. Being that animals have always been a focus in her life, she went on to graduate from Western University of Health Sciences with a doctorate of veterinary medicine. Following her graduate studies, she continued her training with a year internship in a multi disciplinary internship consisting of radiology, internal medicine, cardiology, surgery, emergency and exotic medicine. Aside from dogs and cats, Dr. Rivas has a special interest in reptile medicine and also cares for small pocket pets and birds.
She has been lucky enough to have worked in California, Illinois and now Florida where she hopes to bring her enthusiasm, love, empathy and compassion for animals and their humans. She is excited to be joining the Parkway Veterinarian Center team. She hopes to always be a positive advocate for her patients and clients alike. In addition, being bilingual in English and Spanish, she would like to bridge a gap in communication essential to patient care.
When not at work, you may find Dr. Rivas enjoying a great meal, traveling, paddle boarding, hiking, working out or just relaxing.